Working It Out, Boulder, CO
This is one of my most favorite transformations to date! When my client saw the finished product, she was almost speechless. She said, "Wow! I didn't realize you were going to transform this room. I just thought you were going to organize it!" So much of the time, the two go hand in hand😉 Now, the office/exercise room is exactly that - a welcoming place to work, AND workout!
This project was awesome sauce! My client has a stunning downtown loft with 20 ft. tall ceilings, exposed brick, and original factory windows. The light is exquisite. I had so much fun turning their kitchen into a sleek, functional space, complete with a coffee station and a baking cupboard. Kitchens are my jam! (Also, I love food puns)
Crushing the Clutter, Aurora
This was a MAJOR transformation! My client was ready to make a change in her life. She was brave enough to take a risk, and the outcome speaks for itself. When my client first called me she said, "It's really bad. It's just crushing." She felt she couldn't even begin to clear the clutter that had built up over time, given extenuating life circumstances, and the stress those circumstances can bring with them. I am happy to say that today my client is no longer "crushed" by the weight of her room. Together, we were able to create a game plan, and a new system for her day-to-day. She was READY to reclaim her life through her space. Now, she has a place to relax, a way to display the things that are important to her, and a sanctuary to refuel and recharge. The power of organizing and decluttering is tremendous. It's magic. Let me wave my magic wand for you, and see what wishes can come true! All it takes is that first step…
Another bit of magic? As we worked, $1929.00 in cash appeared from places long hidden and cluttered with "stuff". This job paid for itself and then some! What hidden treasures might you find?
Closet Refresh, Capitol Hill
This was such a fun closet makeover! My client needed a freshen up for himself and his husband. Believe it or not, they SHARE A WARDROBE! If that isn't #marriagegoals, I don't know what is😂 These two have glorious clothes, and the coolest apartment in one of Denver's historic districts. They also live part of the year in Aspen, CO and needed a system that was easy and efficient for moving their clothes twice a year.
The built-ins are divine, and the tall ceilings make this closet bright and cheerful. My clients had keepsakes and memorabilia to display as well, which adds the the charm of this closet. This freshen up was fun AND effective. Now, if I could just borrow from their costume trunk....
This was an EPIC transformation, because my husband invited me to Clean Slate his office! Luke writes for up to 7 hours each day. As a writer, he is incredibly disciplined and dedicated. He decided that, to boost his creativity, he needed to focus and declutter his space, so he could think about new ideas and forward momentum, rather than be stuck in past inspiration. Since his Clean Slate, his productivity has soared. He is able to focus more easily, and think of new ideas in a clean space that highlights his current projects. I am so proud of this huge step he took to honor his work and his time. I married a great one!
Over the Moon for Under the Sky, Arvada
This was a big job, and the team from Under the Sky Event Rental made it fun and easy! In just 8 hours, we transformed their chaotic warehouse space into a well-oiled machine of productivity and ease. Business owners, Patrick and Rebecca, are a phenomenal duo. Their team couldn't be nicer, more hardworking, or fun to work with. Their warehouse space received a major Clean Slate, and now has everything it needs to make planning for their events as spectacular as the event itself! In just a few hours, we were able to transform their warehouse into a functional space with flow, making it simple to pack & unpack, plan, and store their amazing tipis, dance floors, lanterns, trees, and alters. I am grateful for the opportunity to work with such an awesome company on this project, and make their space work for their business and their team! 🎉
Home Office Bliss, Golden
Lisa is a working mom who runs not one, but TWO businesses! Her office had become an overwhelming mess of papers and files. She just needed help to take the first step towards clearing mountains of stuff, and sifting through documents. She loved every second of our session together, and, when it had been organized and sorted, she exclaimed, "It looks just like it did when I first moved in!" Happy client, happy organizer! Congratulations on your "new" office, Lisa. I know your productivity and focus will soar from that desk!
I had so much fun helping this mama make her nursery cozy and calm. With the Rocky Mountains above the crib, this nursery is perfect for a Colorado boy! We created a beautiful reading nook, changing station, and a place for toys and books. Baby Miles is one lucky boy! Added bonus? We were able to find space in Miles' closet for her seasonal clothes! #mamasmakeitwork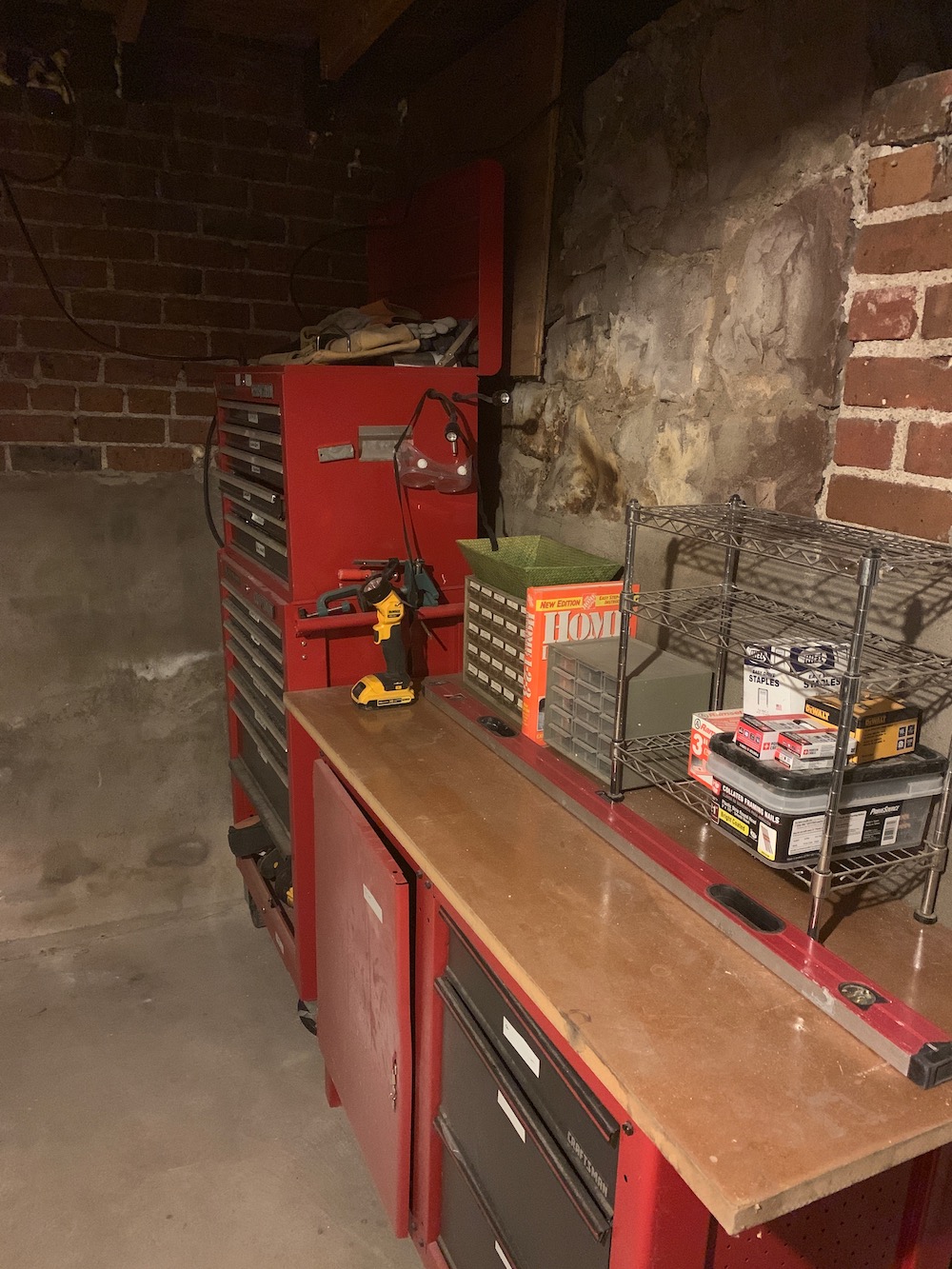 Finding Function, Baker Neighborhood
Jess and Drew have lived in their adorable historic Baker home for a few years, but never got around to clearing our their basement or workroom. Various items from previous owners (some dating back to 1898!) were preventing them from using the space for functional storage, and Drew's construction business. In 4 short ours, we were able to completely clear our the basement, restore productivity to Drew's workbench, and donate some really cool items to friends and neighbors. The best part is that we actually had FUN doing it! It is amazing what happens to a space when you work as a team towards a common goal. The space is now theirs to share and be creative in together. Jess and Drew are total rock stars and I cannot wait to see what comes from their new workspace and re-discovered treasures!
Brand New Basement, Park Hill
I had such a blast organizing Diana's basement! In just 8 short hours, we transformed the basement from an unusable, over-packed storage space, into a beautiful and functional part of her home. Now, Diana has a place for houseguests, and a game room for her children. She also has a workroom for home improvement and DIY projects, and a place for her keepsakes. Her laundry room is pristine and functional, and all of her holiday decorations, specialty kitchen items, and cherished photos are easily accessible. I absolutely loved working with Diana. She is a fierce and busy mother, actress, realtor, and entrepreneur. I am so thrilled the Clean Slate Living Company was able to give some order to Diana's life, and create a peaceful and relaxing space to enjoy time with her family and friends. Congratulations, Diana! You are a Clean Slate rock star!
Closet Creativity, Golden Triangle
I spent today in the company of Louis, Ralph, and Salvatore, organizing a spacious closet with an exquisite wardrobe. It was incredibly fun finding the perfect place for silk scarves, cashmere sweaters, handmade suits, electric blue crocodile loafers, and fur hats. Pure luxury!
My client already had matching hangers, and did not want to discard any clothing items. He wanted to keep dry-cleaned clothes in the plastic to make packing for frequent business trips more efficient. This is a perfect example of how you can be organized without having to part with things you love.
He had various sentimental items that I was able to showcase, once the bulk of the organizing had been completed.
My client is now a well-dressed man WITH a functional closet! He is able to see his gorgeous wardrobe, and important heirlooms and keepsakes, each time he gets dressed in the morning. Mission accomplished!
Finishing Touches,Cheesman Park
Lindsey and Kenny just moved to a gorgeous new apartment overlooking Cheesman Park. While they had unpacked most of their things, they needed help with a few straggling boxes and some finishing touches to make their new apartment feel like home. I had so much fun working with Lindsey to make her space feel cozy, and to showcase the keepsakes, artwork, and furniture pieces that are important to her and Kenny. In just 3 short hours, we managed to erase that "just moved in" feeling, with homey accents, paintings, and nooks that make it feel like home. Lindsey is a woman who knows what she wants. She had a clear vision of how she wanted her apartment to feel, she just needed a little guidance to turn her ideas into reality. Congratulations, Lindsey! Enjoy your new home and that gorgeous view of the park!
Battling the Room of Doom, Lakewood
The "Room of Doom" is no more! I loved working with Benchmark Theatre to get their prop and costume storage organized, functional, and ready for the next production. I love theatre. The memories of shows past that are held within each prop and costume piece are so special, and bring back moments captured on the stage. Such fun!
Family Office Restoration, Littleton
My client closed the door to this room, if she knew people were coming over. If the door was left open, she hurried past it, for fear that she would catch a glimpse of what was piled up inside. The family office had gotten out of control, becoming a receptacle for things that didn't necessarily "belong" anywhere. This office needed a reboot and new purpose. We found the floor, and everything just flood from there!